Computerized Accounting
Diploma | 2 years of study | 120 ECTS
Students enrolled in this program earn a Diploma in Computerized Accounting. The program is designed to provide students with the necessary knowledge and theories of book-keeping and book-keeping related law and to train them on how to use popular computerized accounting and payroll software applications.
The aims and objectives of the program are:
To provide students with an in-depth understanding of the principles, policies and theories of book-keeping, taxation, cost accounting and book-keeping related law (company and labor law).
To establish a broad understanding of popular software applications necessary for a computerized accounting officer such as Sage 50, Payroll Pro, Excel, Word, Internet browser and others.
To provide students with the problem-solving skills and tools needed to begin their career and to enable them to advance in the business and accounting field.
Evening
Classes

Preparation for
LCCI & ECDL

Lecturers with
professional
experience

Government
Student
Sponsorship


Friendly
tuition
fees


e-Soft
classes

Greek
Language


Designed for
Professionals


Opportunities
for internship
Accredited
Program

Active
Career
Office
Excellent
Employment
Opportunities
Upon successful completion of this program, graduates will be able to:
To r

ecord accounting entries.




To

open any account and link it to the VAT and Balance Sheet documents within the framework of insurance, labor and corporate law.



To

seek, analyze and compile data and information, using the necessary technologies.



To

know the purpose and usefulness of ERP (Accounting Information Systems) in supporting an organization's financial management.



To d

evelop skills to use an ERP.




To e

xercise the operational experience of modern accounting that is applied by the accounting departments of the organizations.



To a

nalyze the accounts of an Accounting Plan through the use of accounting software.



To

update and print accounting books and data.



To

prepare and print financial statements.




To a

cquire a comprehensive and global view of Accounting Principles as well as accounting policies and theories, deepening the theoretical training and practical application of accounting through specific software.
Credit Requirements
The program requires a minimum of 120 ECTS credits as follows:
General Education Requirements | 18 ECTS credits
Major Requirements | 90 ECTS credits
Free Electives | 12 ECTS credits
General Education Requirements
ENG101 English Communication (6)
ENG102 English Writing (6)
ENG201 Advanced English (6)
Major Requirements
ACC112 Accounting I (12)
ACC203 Accounting II (12)
ACC204 Computerized Book-Keeping (12)
ACC205 Book-Keeping Applications (18)
ACC206 Taxation (6)
ACC208 Managerial Accounting I (6)
CSC124 Computer Applications (6)
CSC125 Spreadsheets (6)
LAW102 Company and Labor Law (6)
MTH105 Financial Mathematics (6)
Free Electives
The student is free to take any course offered by the College.
The number of credits each course is carrying is indicated in the parenthesis following
the course title.
The syllabus curriculum is designed to prepare students to take external exams in accounting, computer accounting, and computing. Therefore, in addition to studying at the American College, students of the Computerized Accounting Diploma can obtain the following professional certifications:

Pearson LCCI Level 1 Book-keeping,

Pearson LCCI Level 2 Book-keeping and Accounts,

Pearson LCCI Level 2 Computerised Book-keeping Skills

Pearson LCCI Level 3 in Accounting

European Computer Driving License (ECDL).
In the computerized accounting program, students are trained on e-Soft software, which is quite popular in Cypriot businesses. It is important to emphasize that the methodologies and functions of these software are compatible with the rest of the market.
E-Soft
Specializes in the development, implementation and support of Accounting, Stock Control, Payroll, Mobile and other business software solutions.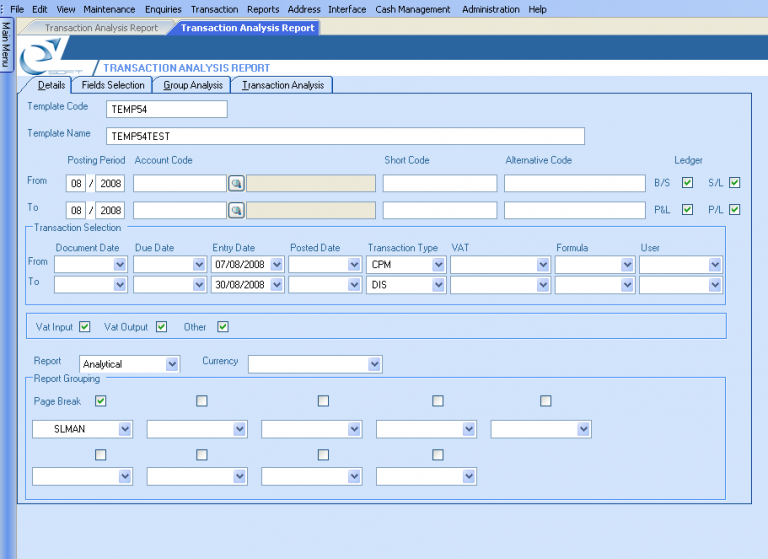 Premiere Payroll
The Premier Payroll System is versatile, powerful and easy to use, with very rich functionality that can meet the needs of any organization. Premier Payroll is specifically designed for Cypriot law. It enables the modern business to automate the process of preparing its payroll efficiently and productively. It also assists in project management by providing statistics on business costs and addressing staff funding issues.
Business Administration
(Diploma - Bacheror)

Office Management
(Certificate)